Second seeds Spain and Belgium suffer as England, France and Germany advance
The three year wait is over, and at the third attempt the European Team Championships got under way in Eindhoven today. There were a  host of matches at Squash Time starting at 10.00, and four on the Glass Court at Klokgebouw.
It wasn't a good day for the men's and women's second seeds, as Spain's men and Belgium's women teams both lost both struggled,
The Belgian women, elevated to second seeds due to France's depleted squad, lost their top player Nele Gilis last night so the results – 1-2 losses to hosts Netherlands and to Germany – weren't unexpected in the circumstances. Third seeds Wales won twice and are semi-final bound, to be joined by the winners of Netherlands and Germany.
Similarly, Spain's men were without number one Iker Pajares so repeating last time's heroics was unlikely, and although the had a countback win over the Czech Republic, they fell to a 1-3 defeat to Germany in the final match of the day.
Sixth seeds Germany had earlier beaten Scotland on countback and look in good shape for the semis, with the winner of Spain and Scotland likely to join them. In Group A England and France – seeded #1 and #4 – both notched up two wins to seal their places in the semis.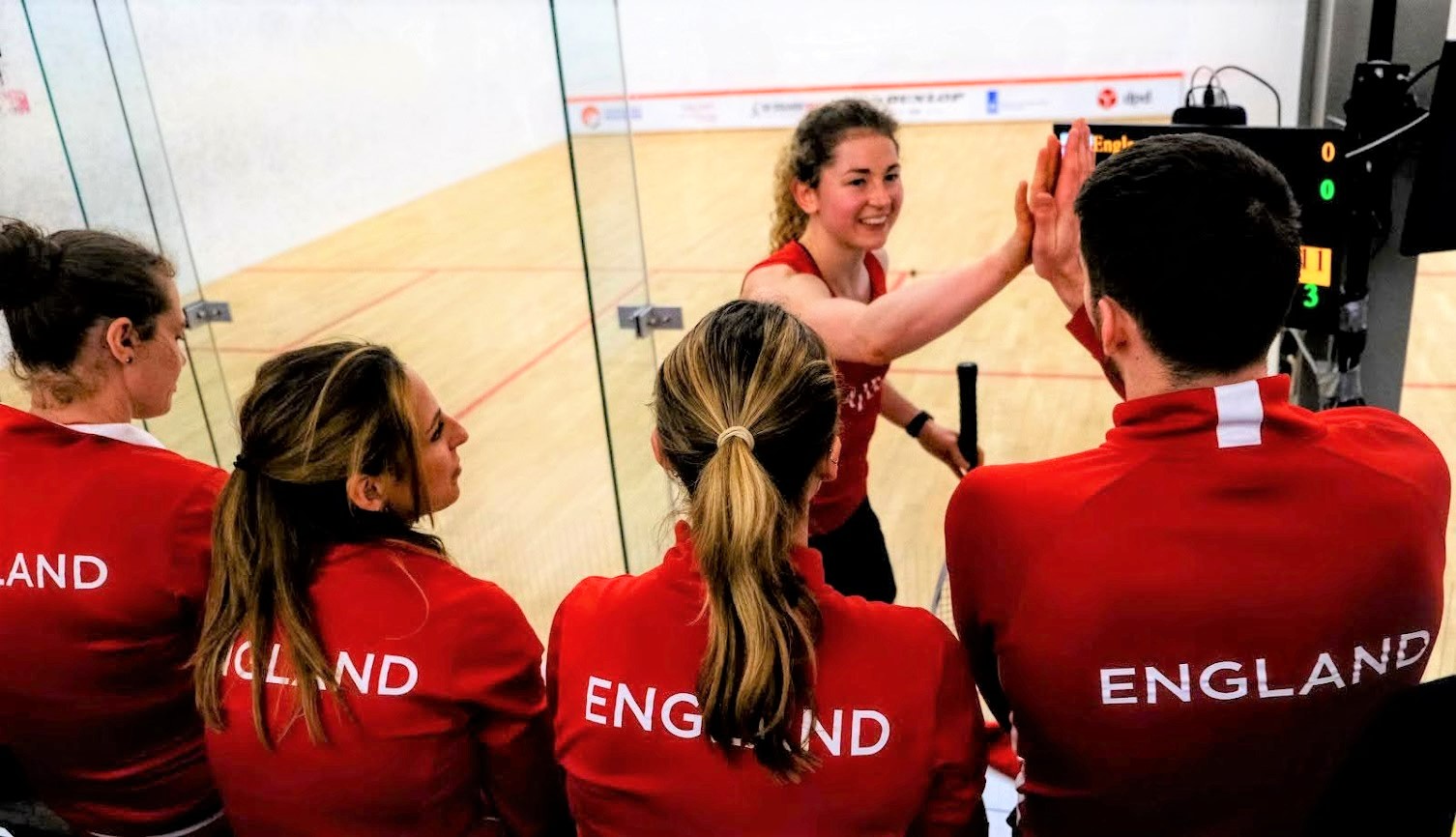 It was a similar story in Women's Pool A with England and France – also seeded #1 and #4 – both won twice to book their last four spots.
England and France meet twice on the Glass Court tomorrow – 11.00 for the women and 19.00 for the men – to determine the final pool placings.
Meanwhile in Division Two hot favourites Switzerland were unbeaten, and while the top two positions in the women's pools are settled, there's still all to play for in tomorrow's final men's pool matches.
Summary of Day One results and Pool Standings below …
ETC 2022 : Day ONE Glass Court Matches
11.00 WB   [2] Belgium 1-2 [6] Netherlands
Tinne Gilis 3-0 Milou van der Heijden  11-7, 11-4, 11-3 (21m)
Marie-Amélie Callebaut 0-3 Fleur Maas  6-11, 4-11, 3-11 (18m)
Chloé Crabbé 1-3 Tessa Ter Sluis  13-11, 1-11, 5-11, 3-11 (27m)
13.00 MA   [1] England 4-0 [8] Finland
Patrick Rooney 3-0 Miko Äijänen  11-8, 11-3, 11-4 (26m)
George Parker 3-0 Matias Tuomi  13-11, 11-3, 11-3 (25m)
Nathan Lake 3-0 Oskari Laitinen  11-1, 11-1, 11-1 (13m)
James Willstrop 3-0 Olli Tuominen  11-4, 11-7, 11-2 (18m)
17.00 WB   [3] Wales 3-0 [6] Netherlands
Tesni Evans 3-0 Tessa ter Sluis   11-7, 11-6, 11-2 (20m)
Stacey Gooding 3-0 Juliette Permentier  11-5, 11-1, 11-3 (17m)
Emily Whitlock 3-0 Megan van Drongelen  11-4, 11-3, 11-3 (19m)
19.00 MB   [2] Spain 1-3 [6] Germany
Borja Golan 0-3 Raphael Kandra  10-12, 7-11, 8-11 (36m)
Edmon Lopez 3-0 Yannik Omlor   11-6, 11-5, 11-3 (29m)
Sergio Garcia Pollan 0-3 Valentin Rapp  7-11, 10-12, 9-11 (42m)
Bernat Jaume 0-3 Simon Rosner  4-11, 8-11, 5-11 (29m)